blog two
Hello there! I've been working on this project and I've only really started to make any real progress in the last few months. My main blocker was my stupid method for mapping out the level itself and life. So back when I started I researched to see if I could access the game files through old software from that era, software like Blitz3D but unfortunately, that wasn't gonna happen. I couldn't find any software that could successfully open .B3D files so I was beginning to think it wasn't worth all this trouble (it wasn't) but by chance, I stumbled across a thread on assemblergames.com from October 2016. A user named 'hef0p'  had a copy of the original level editor for the game and just shared it online with everyone. My prayers had been answered and I was pumped.
follow the link on this video to get a copy
Again I spent ages trying to find a bridge software to export the files into a more accessible file type but nope. I don't know much about how the software works tbh because I draw, I don't math. I assume with this software it had something to do with it being tile image based and not actually "3D" in the traditional sense. The characters are 3D from what I can gather but I have no access to those files as they are not editable in the level editor. Knowing my luck tho they probably are and I've just missed crucial info to convert them……but oh well.
So after a few failed attempts I am now officially getting somewhere. What I did was pretty simple but also incredibly slow. In the level editor, you can see the measurements for the tiles, some are an easier read than others, The reoccurring size was 64x64 so I made that my base tile size and made the map from there. This required me to go through each are and count the number of tiles in those areas. I wrote them down in my notebook, went back to Maya and build the map tile by tile. Look I know what you are thinking and I've been thinking it many times myself over the last week. I am a fucking genius. Though this process made the overall building of the level much much easier because I had a grid template.
After all this, I divided the level up into 4 stages to help simplify the work and reduce the file size from future trouble. The 4 stages are shown below.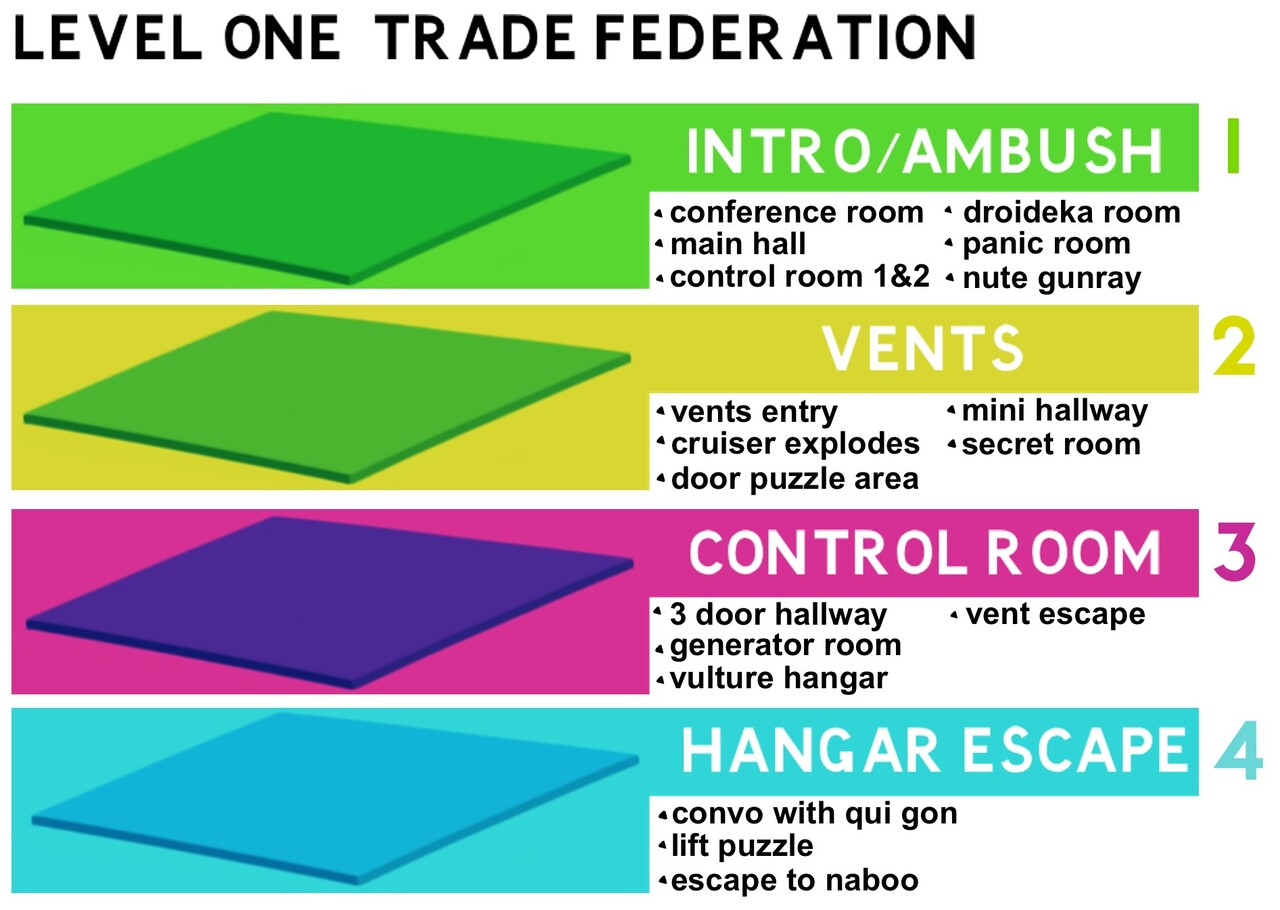 organisation is key peeps
You can see that there is quite a lot of ground to cover but tbh the only stage that will probably give me the most grief is the Hangar Escape. The original game had a very lazy/ugly hangar that makes my eyes bleed now so I plan to do a huge redesign on that stage, you know make it look like a hangar and not a carpet warehouse. Obviously, I'll take as much inspiration as possible from the source material but I'll add my own flair here and then. (Depressed looking white guy white beard and gut will be the centerpiece.)
Gonna so a wee break down of each stage below before I go. I'm very thorough.
stage 1
This area has the most detail and assets. It'll be a pain but it's already coming together faster than I expected. I have ideas for this area that I already think is a bad idea but we'll have to wait and see.
stage 2
I like this area quite a bit but I feel like it could use with some improvements. Make it more maze-like and add to the cruiser destruction area. 
stage 3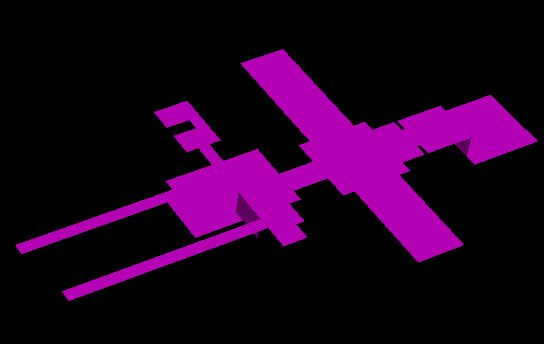 Some weird choices in this area that I am not sure how to tackle yet but that's part of the fun I suppose. Most of the assets from stage one can be reused here so it shouldn't take as long to assemble.
stage 4
Not much to add here that I haven't already said up above. I do think that the layout is pretty boring so that may change once I get the assets built.
So there's the map in full, geographically it makes no sense at all to how the ship would actually look like but I'm not gonna go mad with rearranging the level to suit that crazy part of me. I hope that I can add and subtract areas because I do think there's room for improvement, especially in the vents and hangar. 
Bye for now,
Matt